Champignons
We have made sure that there are always fresh and tasty mushrooms in your kitchen. That's why we present sets for growing mushrooms at home. From now on, you can pick mushrooms whenever you want. What's more, you don't need to look for them in the forest or in the store, because thanks to our sets you can grow them yourself.
Champignons cultivation set:
. first harvest: after about 20 days;
. growth temperature: + 12ºC – + 24ºC;
. workload: low;
. set capacity: 3L.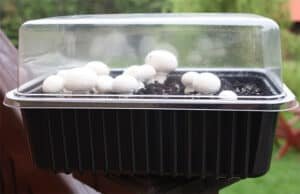 A special mini-greenhouse ensures sufficient humidity, which means that it can be grown practically anywhere: in the kitchen, garage, basement, etc.
The brown champignons set includes:
the substrate is infected with the mycelium of brown champignons mushrooms;
mini greenhouse for cultivation;
growing instructions.
If you care about what you and your family eat – this set is just for you.
Champignons mushrooms have useful properties:
linoleic acid, which has a strong anti-cancer effect;
anti-scarring lectin;
vitamins B, C, D and K, niacin and biotin.